Societal impact is not only one of my research interests, I aim to practice it myself as well. My aim is to better equip academics for having an impact on society by offering them a framework to develop their own impact strategy. To this end, I have developed a societal impact workshop. I offer these workshops through my company 'Engaging Scientists', which I founded in 2016.
The societal impact workshop is characterized by interaction among participants and directly applying new insights. It consists of two main elements. The first is theory. What is impact? And what is expected from researchers in grant applications and research evaluations? The second is practice. Academics develop their own impact strategy and provide feedback in smaller groups. To this end I have developed a discussion card (in Dutch, soon available in English as well). The four main questions, each accompanied by several sub questions, stimulate thinking and talking about impact.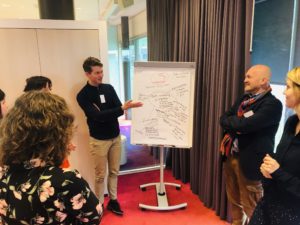 The format of the workshop can be adapted to workshops ranging from one hour to two four-hour meetings with a month in between to start implementing impact strategies. Regularly, policy makers and impact professionals join in to learn about how they can support academics. As interaction is key to my workshops, the minimum number of participants is six and the maximum is twenty. On the one hand, these numbers provide input from different perspectives. On the other hand, they allow all participants to share their perspectives. An example of a presentation that I use to support my workshop can be found here.
Current and previous clients include:
Antwerp University
Delft University
Dutch National Heart Foundation
Erasmus University Rotterdam
Leiden University
Netherlands Environmental Assessment Agency (PBL)
Netherlands Organisation for Scientific Research (NWO)
SpringerNature
Utrecht University
Vrije University Amsterdam
Apart from workshops I also offer presentations about societal impact and support in writing impact sections for grant applications.
Feel free to send me a message for more information.