In the news section you will find out more about my recent activities and outputs. As the time horizons of academic research are rather long, in this section I understand recent as 'within the last three months or so.'
Two commissioned workshops for early career researchers at Erasmus University Rotterdam
09-05-2019
Erasmus University Rotterdam invited me to host two workshops during their Career Day for early career researchers. In the Grant Writing workshop we discussed national and European funding opportunities, practiced writing a research proposal, talked about structuring a cv and mock-reviewed my NWO Rubicon application.  In the Knowledge Utilization we first analysed NWO's understanding of knowledge utilization and discussed examples of meaningful knowledge utilization. After that collected building blocks for the knowledge utilization paragraphs of the participants, using four questions and four guidelines.
Seminar for Department for Education at Oxford University
25-04-2019
I presented the framework for analysing the conditions that universities provide for societal impact of academic research to the Department for Education at Oxford University. The presentation can be found here.
Workshop on Focus Groups for MSc. students
23-03-2019
Today I hosted Workshop 'Focus groups: from design to analysis' at The University of Manchester. The workshop was part of the course module Research Methods of the MSc. programme Innovation Management and Entrepreneurship.
ENRESSH Short Term Scientific Mission Grant
25-02-2019
ENRESSH has awarded me with a Short Term Scientific Mission Grant to visit Nelius Boshoff of the Centre for Research on Evaluation, Science and Technology at Stellenbosch University in South Africa. Nelius and I will work on our paper on how sub-Saharan academics conceptualize societal impact of academic research.
Blogpost on LSE Impact Blog
18-02-2019
Together with Reetta Muhonen, I wrote a blogpost for the Impact Blog of the London School of Economics. In 'Ahead of the game – How impact is an additional hurdle for scholars from widening countries to receive EU funding' we present our paper 'Who benefits from ex-ante societal impact evaluation in the European funding arena? A cross-country comparison of societal impact capacity in the social sciences and humanities' in a concise and accessible way. Because of the blogpost, Oxford University Press made the article available free of charge until March 31, 2019. Within no time, the Altmetrics score of the paper went up to 24, landing it in the top 5% of all research outputs scored by Altmetric.
Paper on collaboration in transdisciplinary research programmes published in Sustainability.
13-12-2018
Trandsdisciplinary research programmes and project should not only pay attention to differences between academic researchers and societal partners involved, but also to differences among societal partners. This is what I, Laurens Hessels and Stijn Brouwer argue in our new paper 'Collaboration between Heterogeneous Practitioners in Sustainability Research: A Comparative Analysis of Three Transdisciplinary Programmes' which is published in Sustainability.
12-12-2018
Workshop on university impact strategies
ASTP-Proton's and Praxis Auril, organisations for knowledge transfer professionals, invited me to give a workshop on university impact strategies during their course on Knowledge Exchange in the Social Sciences, Arts and Humanities in Vienna. This was the very first time I gave a workshop based on the model of university impact strategies that I am developing in the 'Professional Practices' project. I felt honoured and excited to see over 50 professionals discuss the impact strategies of their organisations, using the model as a guide. Discussions were lively and I was happy to learn that participants found the model useful to reflect on current and desired strategies. I was delighted to learn that 85% of participants believed the workshop to be very good or excellent. Feedback included 'Really thought provoking session and useful framework for researchers and practitioners alike' and 'Excellent session – really engaging and very relevant.'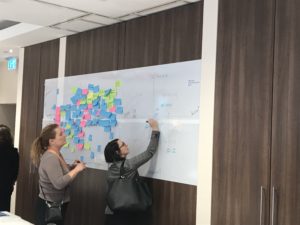 11-12-2018
Paper on impact in the European funding arena published in Research Evaluation
Researchers in the social sciences and humanities in across European countries differ in the variety of societal partners they communicate and collaborate with as well as in the variety of ways used to do so. Also, researchers differ in the ways they report about these activities. It is important for the European Commission to address these differences if it does not want its quest for impact of research to conflict with its aim for widening participation. This is what I and Reetta Muhonen argue in a newly published paper in Research Evaluation: 'Who benefits from ex ante societal impact evaluation in the European funding arena? A cross-country comparison of societal impact capacity in the social sciences and humanities' (log in required).
5-12-2018
Seminar Lancaster University
The Department of Educational Research at Lancaster University invited me to give a seminar about my ongoing project 'Professional Practices: Unravelling the effect of university impact strategies on societal engagement of academics.' I presented the typology of impact strategies that I am developing as well as four test cases of universities. Apart from researchers of the department, professional staff working on impact and an art student attended the seminar. The latter drew a cool infographic based on my presentation!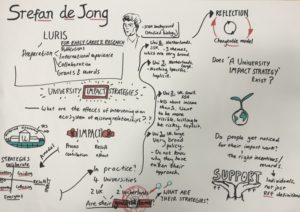 28-12-2018
ENRESSH policy brief launched
In collaboration with dr. Jack Spaapen, I have authored the first policy brief of COST Action ENRESSH. We argue that societal impact should be evaluated in its context. Disciplinary and national differences should be acknowledged to allow optimal communication with peers and stakeholders. Communicating with the right stakeholders in the right ways is key to achieving impacts. The brief was circulated among all participants of the Pathways to Impact from SSH Research conference inVienna (28/29 November 2018)
13-11-2018
Keynote speech for European Meeting of the Global Research Council
The European Meeting of the Global Research Council invited me to give a keynote speech on the evaluation of societal impact. Currently, the council is drafting a position paper on societal impact evaluation. The paper will include guiding principles for research councils around the globe.  I argued to evaluate societal impact as a process rather than a result. This can be achieved by assessing proposed or followed impact strategies. By evaluating the proces, learning, inclusiveness and creativity are promoted.
12-11-2018
Moderating workshop 'Societal Quality' for grantees of the Dutch Hearth Foundation
I moderated a workshop 'Societal Quality for grantees of the Dutch Heart Foundation. Next to six grantees, the group of participants included patients, communication advisers, nurses and pharmacists. Central to the workshop is a specific impact aim of the grantees. Participants draw on their networks, experiences, insights and expertise to help grantees increasing the societal quality and impact of their project. In other words, the Dutch Heart Foundation does not only ask scientists what their impact could be, it also supports its grantees in realising their intended impacts.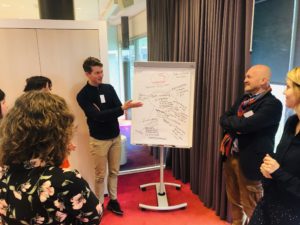 Participants discussing how to involve health professionals in research projects
20-09-2018
Online Course 'Impact and valorisation for PhD students'
Together with Jorrit Smit and in collaboration with the Dual PhD Centre of Leiden University I have developed an online course on impact and valorisation. The first group of students is currently following the course. If the pilot is successful, the course will be made available for a wider audience. Jorrit and I introduce the content of the course in the video below.